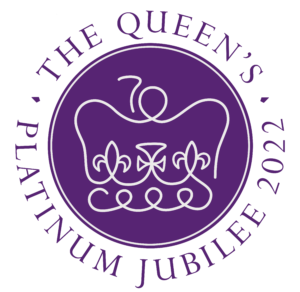 On 6th February this year Her Majesty The Queen became the first British Monarch to celebrate a Platinum Jubilee, marking 70 years of service to the people of the United Kingdom, the Realms and the Commonwealth.
To celebrate this unprecedented anniversary, a programme of events are being planned in a joint-parish venture with Binegar & Gurney Slade over a four day UK bank holiday weekend from Thursday 2nd to Sunday 5th June. The bank holiday will provide an opportunity for our communities to come together to celebrate the historic milestone.
The four days of celebrations will include:
Thursday 2nd June – Beacon Bonfire at Maesbury Ring – We are inviting families to either walk or drive to the site (highest point of the Mendips) bring a picnic supper with a Beacon bonfire to be lit at 9.45 pm
Saturday 4th June – Village Dance at Oakhill Rec – A dance inside a marquee at the Rec featuring music from The Terry Hill Big Band followed by a disco. We are hoping to have food stalls and a cash bar operating.
Sunday 5th June – Family Fun Day and picnic – On this day we will revert back to our own villages with both Village Halls and adjoining parks hosting a family day and picnic.
We are seeking volunteers to assist in various activities so please contact Andy North on 07853 112241 or email [email protected] in the first instance.
Support from members of our local business community is also being sought to ensure that we can offer a memorable few days of fun and entertainment to mark this historic occasion.
If you are able to make a donation towards our plans it will be much appreciated but any support you might be able to offer will be gratefully received.
Thanking you in anticipation.
Kind regards,
David Barlow – Chair Ashwick Parish Council
Jon Abbott – Chair Binegar Parish Council
Richard Priestley – Vicar- Beacon Trinity
Andy North – Chair Oakhill Village Hall
Dave Sheppard – Chair Gurney Slade / Binegar Memorial Hall