Do you enjoy gardening, have a new garden, would like to know more about plants? Then why not join the East Mendip Gardening Club? We are a friendly, local gardening club and have members and visitors from all over the East Mendips. Our meetings are held in the Ashwick and Oakhill Village Hall, at the top of Zion Hill in Oakhill, and are usually on the 4th Tuesday of each month, with talks starting at 7.30pm. There are usually ten talks a year (often illustrated and/or practical), plus two visits to places of interest and other events.
Come and join us! New members are always welcome, from beginners to experienced. The annual subscription is £10 individual or £15 joint (partners or 1 adult & 1 child). For visitors or a taster a session is £3 to include a cuppa and a biscuit.
Contact: Fiona Blackmore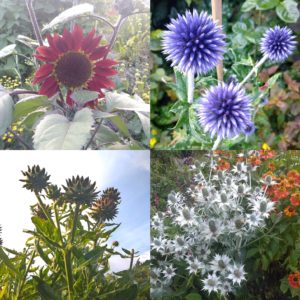 Email: [email protected]
or see the Oakhill Village Life FaceBook page
East Mendip Gardening Club Programme 2019
22nd January
Les Davies: "To follow the Plough"
The story of a farm workers family in the mid 20th century.
26th February
Mary Cross: 'Willow weaving demo with practical session'.
26th March
Rosemary Fitzgerald: 'People and Plants a long history'.
23rd April
Sally Gregson: 'Putting the right plant in the right place'.
14th May
Wild Food Foraging Walk in Oakhill.
28th May
Neil Lovesey: 'The History and Future of the Cottage Garden'.
15th June
Mini Produce Show at the Oakhill Village Festival.
25th June
Garden visit. Cottage Mill Plants – Sally Gregson's Nursery.
23rd July
Garden visit. Benter Gardens – Formal, Woodland and Meadow Gardens.
27th August
Summer Social Event at Park Farm. Buffet & Beverages. Meadow & "Lake" appreciation.
24th September
Eve Tigwell: 'Garden Birds'.
22nd October
Katherine Kear: 'Flower arranging from the garden'.
26th October
Sow, Grow, Know workshops: The Story of the Apple, Grafting & Planting Demos, Basics of Pruning – bring your secateurs, Children's Autumn Activities,
Flower Arranging Demo, Discussion on Oakhill Buzz – Review and Plans. Tea & Cakes.
26th November
Micky Little: 'Bulbs and their selection [with a touch of Chelsea]'.
30th November
EMGC Stall at A&O Village Hall Christmas Market.
10th December
Additional Garden Meeting & Christmas Social.