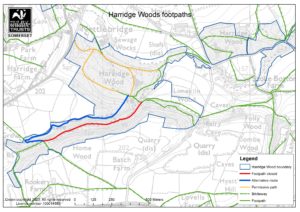 From Monday 2nd March 2020 the bottom path of Home Wood, part of Harridge Woods, will be closed as per the pictured map. The top path is still open so people can walk along a parallel route. The reason for the closure is as follows, the woodland here is predominantly ash and is badly affected by ash die back, that is the trees are in various stages of dying and are very likely to drop limbs, fall over or collapse as the trees become very unpredictable. The bottom path of Home woods is along the bottom of a valley which means that there is an increased number of trees, up the slopes, that could land on the footpath causing injury and death when compared to the top path.
The footpath at Edford Woods is also closed due to the ash trees along this route also being in a bad state due to advanced ash die back.
The closures cannot be missed due to signs being placed up at the entrance of the Wildlife Trust reserves.
Please note at a later date there will be further closures at Edford Woods, of which when known a date will be advised.